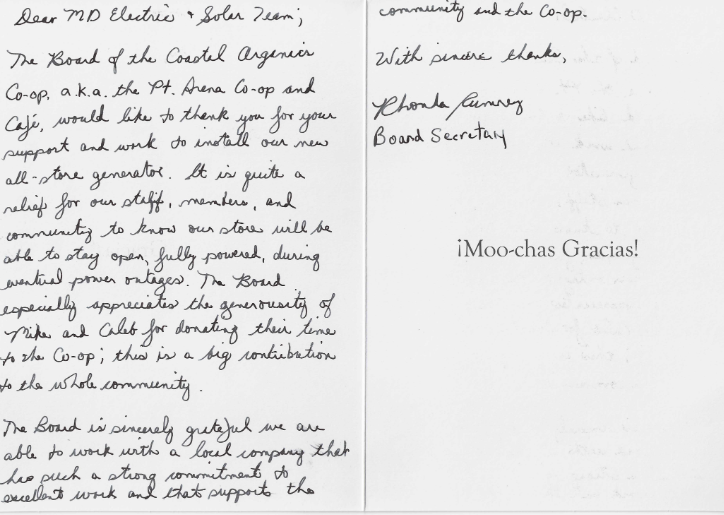 MD Electric installed a high voltage electric car charger in our Sea Ranch home in July, 2017. The price was fair (about what we paid for the same installation in Berkeley). MD did the work with only an over the phone agreement and exchange of emails. We did not have to be present for the installation. The charger works beautifully with our new Chevy BOLT. We are entirely satisfied with MD Electric's fast, efficient, and fair priced work.
So grateful to Mike and his crew for responding within 24 hours when the submersible pump on my well finally gave out after 30+ years. They solved several electrical issues and replaced the pump in a timely and very professional manner. We are so lucky to have someone with his skill and knowledge in our community. Thanks Mike!
High Quality and Excellent Customer Service, MD Electric is the Best in the West!
MD electric has done indoor lighting, outdoor lighting for ambiance & safety and solar panels that are installed exactly the right way and saving us money and saving Mother Earth. Three cheers!! Efficient, neat & tidy, knowledgeable, and congenial! Couldn't ask for more!
Great price and very professional. We love our solar.
MD electric installed my charger for my Tesla today...and fix an outdoor electrical plug destroyed by salt intrusion.
A very professional installation..thank you
"My husband and I faced a much-needed update to the lighting design and installation for our home in Anchor Bay. As part-timers for many years, we coasted along, postponing a job that would include carpentry and scaffolding. Would we find reliable, expert help? As recent full-timers, we took the leap to add to the enjoyment and value of our house."
"With the leadership and skill of Mike Nelson, the project, impacting multiple rooms and hallways, went off without a hitch. The MD Electric team worked with precision, attending to our budget and other needs, every step of the way. We are grateful for Mike and his team's punctual, friendly presence. Why did we wait so long to make such significant improvements? Thank you Mike, Cindi and Caleb: we counted on you, and you came through."
April and Ron Dammann, Anchor Bay
— April and Ron Dammann, Anchor Bay
"With top-of-the-line components, it's everything we could have hoped for. Mike explained all of our options. We made the choice and he quickly and professionally installed the system. Not only was he easy to work with during the installation, he made it just as quick and easy to get the rebates. Mike did all of the paperwork, both for the state and the utility. Every month when we get the electric bill, I say
"Thanks Mike."
 
— David Fouts & Janet Loxley, Gualala
"A little over two years ago, we decided to do a major remodel on our residence in The Sea Ranch. Originally we hired Mike to install Solar Panels on our home, however, we were so impressed with his professionalism and integrity, we decided to hire MD Electric to complete all the electric work on the remodel. What a pleasure it was to work with Mike. We now consider him a friend. He made the whole process smooth and as stress-free as possible."
 
— Susan & Craig Alexander, The Sea Ranch
"We are pleased that we were connected with MD Electric & Solar. Mike was
knowledgable, competent, professional, and helpful. He has continued to support
his installation to this day, nearly four years. We'd recommend them anytime unconditionally".
 
— Steve Bohn, The Sea Ranch